You spend months, sometimes years, perfecting a novel and so what do you have to show for it??? A book that is ready for readers to enjoy!
My only regret is that I finally have A GHOST OF A CHANCE AT LOVE available two years after my mother died. She and I used to love to visit Salado, Texas, where this book was set. A place that every time we visited, I longed to write about a woman who somehow becomes tied to the past with one visit that changes her life forever. A ghostly tale of love and romance, a jaunt to the past, and a return to the present, only to discover that no matter where she is, her life is in danger. And the love of her life from the past isn't letting her go, no matter what.
I haven't been back to Salado since my mother died. But a part of me will always remember the special time we shared, and the fun she had in reading what I had written back then, and being part of the whole process. The Stagecoach Inn where I set the story wanted me to come and do a signing, and I plan to when the book is in print. But it'll be hard for me to do so without my mother to share in the experience.
I dedicate the book to her for always being there for me.
Amazon
B&N
Lisa Welsh only wishes to leave a messy divorce behind for a couple of days stay in Salado, Texas but wakes to nightmares and a cowboy in her bed, and she has no earthly idea how he got there. But the situation gets worse when she learns she's now living in 19th Century Salado. Even more worrisome is the tall dark stranger, and everyone else in town believes she's some woman named Josephine Rogers who is supposed to be dead.
Jack Stanton can't believe the clerk gave him an occupied room at the Shady Villa Inn, but worse, he was ready to ravage the woman in that bed—until he realized his mistake. Now the woman he thinks is Josephine claims to be some other woman—and though he could never abide by Josephine's fickle ways, this Lisa Welsh intrigues him like no other. Still, if she isn't Josephine, he figures he best help her find her way back to where she really belongs no matter how much he wants to keep her with him.
Together, Lisa and Jack must solve the mysteries and face the troubles in their worlds or they will never be free to share the love that binds them across the ages.
And the 3rd book in The World of Fae, THE WINGED FAE is available!
I'm working on another couple in the series, and also Tom's story of the wolf fame! :)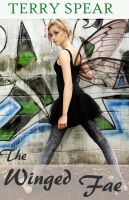 The Winged Fae
Ebook By
Terry Spear
Published: Sep. 02, 2011
Category:
Fiction » Young adult or teen » Romance
Category:
Fiction » Young adult or teen » Fantasy
Words: 45210


Serena, a royal member of the Mabara winged fae, has one goal in mind. Stop an impending marriage with a dark fae. As the fae are known to do, she stirs up trouble that she hopes will make her point and get her off the hook. Only nothing goes as she plans.
Niall, a royal member of the Denkar, aka the dark fae, is visiting South Padre Island when he catches a winged fae painting graffiti on a wall on the island claimed by his people. He is at once fascinated with the lovely girl and intrigued by her audacity, but as one of the Denkar, he must take her to task. Yet she's armed with a sleeping potion that makes his life intolerable. Between freeing her from his people's dungeon, her own tower, and fighting a knight in her honor, he wonders if he's lost his mind over one beautiful winged fae--when she's betrothed to his cousin!
Available at these fine stores:
B & N
Amazon
ARe
Smashwords
In The World of Fae, I have also highlighted a location I love--South Padre Island, Texas. It's just as magical a place as Salado is to me.
In Colorado, I loved to ski--I loved the quaint old western silver mining town of Telluride, and I loved Breckenridge also and so I set the Destiny of the Wolf pack in Colorado, basing it on the towns I love. And Oregon, also, for some of the rest of the series. And even Deadly Liaisons, the vampire romantic suspense is set in Oregon. Just seemed perfect for the story!
Do you have special real locations that you love so much, you want to write about them in your stories?
Terry
"Giving new meaning to the term alpha male."
www.terryspear.com