Heart of the Highland Wolf is nearly here!!! The Highland wolves you've been waiting so eagerly for!
Can you believe it's the 7th book in the series already??? Actually, I've already written books 8, 9, and 10, so it seems like that's eons ago!!! I'm already in the Amazon jungle with the first of the jaguar shifter books right now, which means 4 books ago, I wrote Heart of the Highland Wolf!
Don't ask how I keep the characters all straight. I don't. :) I have to reread the books to do that. And I WISH they would become available in audio book form so I could listen to them in my sleep and through osmosis, I would remember every detail.
So little time...
In just a couple of days the BIG blog tour for Heart of the Highland Wolf begins. Be sure and check out my author blog for the days where I'll be giving away free copies of the books to lucky winners.
In the meantime...I uploaded some new books too. :)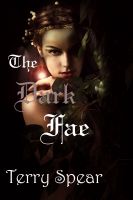 The Dark Fae
Ebook By
Terry Spear
Published: May. 13, 2011
Category:
Fiction » Young adult or teen » Romance
Category:
Fiction » Young adult or teen » Fantasy

Available at:
Amazon and B&N
and Smashwords



Alicia's always known she's different--that she can recognize the mischievous fae when they show up to "play" with the humans. Only now she's faced with one highly annoyed dark fae and she's certain he knows the truth about her. She can see him, which means her life is forfeit.
Add to that, his sister arrives, who wants to play, too. And their mother, the queen of the Denkar, will want Alicia's head, once she learns what Alicia can do.
And all because Alicia was attempting to rescue her friend, Cassie, on their beach excursion at South Padre Island, from the wicked fae. Now, Alicia has really gone and done it--and she's thinking she should have let the fae have his fun. Her friend's broken heart would be a lot easier to deal with, than Alicia losing her life.
But it is too late for regrets. As soon as she threw the soda at the dark fae's chest, she had declared war on the fae. And he is happy to take up the challenge.
The Dark Fae
has been making Amazon's best selling list, along with
Heart of the Highland Wolf!
***
Allan Thompson arrives in Waco, Texas for a mission of utmost importance--protect a terrorist's mistress from being the next victim on his hit list. But when the mission goes down wrong, Jenny Brant is nearly killed and Allan begins a new mission--protect her at all costs--as her faux husband until she can regain her memories.
Everything about the mission seems wrong--all starting with one Jenny Brant who doesn't fit the profile of the kind of woman Wilson usually hooks up with. Allan and his team must protect her, but at what cost to his own sanity or his heart?
Jenny Brant begins to regain her memories, but when she learns she has a huge inheritance that Wilson wants by marrying her, and the agent Allan Thompson will marry her instead to secret her money away with the Agency's protection, she still can't remember why she would have been a killer's main squeeze. When Wilson's thugs try to return her to him, she becomes less sure of who the good guys are and who she truly is.
The only thing she knows for certain--if someone doesn't take down Wilson, her life is forfeit.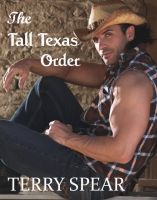 The Tall Texas Order
Ebook By
Terry Spear
Published: May. 23, 2011
Category:
Fiction » Literature » Romance - Short Stories
Category:
Fiction » Literature » Romance - Contemporary
Words: 6959
Smashwords
Amazon
Lisa has lived all over the States, but when she starts working in Amarillo, Texas, she's ready to settle down with the man of her dreams--if she can prove to herself she has the mettle to become a Texan.
From camping in the Palo Duro Canyon with rattlesnakes and scorpions and wild mustangs, riding the trail on a cantankerous trail horse,line dancing, and watching a friend devour a 72-oz steak, Lisa's having the fun of her life...mostly.
But can she learn to be a Texan? Inspired by several true incidents, the story revolves around a woman who's never settled down for long and a man who wants her to love his home as much as he does...fearing she's bound to leave him sooner or later as she has never been able to set down roots.
***
The story about the wild mustangs was true, only I'd heard them when I was camping in the canyon with Army ROTC cadets, and I've been to all the places described in the story. The only thing that I still need is that tall hunky Texan!
Wouldn't you like a shot at him too???
***
Hope you have a wonderful Memorial Day weekend! I'm actually taking off some days so that I can...write!!!
Terry
"Giving new meaning to the term alpha male."
www.terryspear.com