Mexia has already done much more than most school- trained mages when she and her companions had gone in search of the scepter of salvation. But now one of the apprentices of the evil wizard they had destroyed, has stolen his spell book and plans to take up where he had left off, and she has to try and stop him.



Mexia believes the only way for her to defeat the mage is to become school trained like he was with the eventual goal of becoming a high wizard--the first of her kind in Inherian. But the current headmaster denies her entrance because she's a woman. Though if she can get the former headmaster's recommendation, she may attend.

And that's the beginning of the trouble.

First, there's the wizard.
Then, the immovable headmaster.
And then, the circle of misfortunes.
It all goes downhill from there...
One of the fun things about Indie publishing is that we can change the cover if we want, and I've wanted to do this for a long time, so what do you all think? Top one is the new cover, the bottom is the old cover...
I've also reduced the price for a short time from $4.99 for an 85,000-word novel to $2.99!
Now I just need to come up with a new cover for Scepter of Salvation!
B & N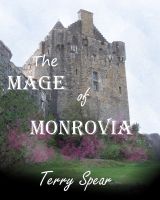 And here is the other book, book 1 that I changed the cover for:
Princess Talamaya turned 18 in the human kingdom of Damar, just like her twin brother. Only when she comes of age, she must wed the king's choice. When her brother comes of age, he's allowed to sit on the council. But everything changes when a wizard pits beast and man against each other in Inherian--all because of the loss of the Scepter of Salvation and she must return it to their kingdom.
Princess Talamaya and her friends, Lady Kersta and Lady Mexia, must retrieve the Scepter of Salvation when her brother is poisoned.Visions plague Talamaya of a world beyond her own, of a destiny she has to fulfill.
But the barbarian king is also after the scepter, and the black-hearted wizard who is trying to gain control will do anything to keep them from retrieving it.
She must free a knight from his madness.
Help a female dwarf escape from the dwarven mines.
Aid an Amazon fighting the Dark Elves.
Rescue even the barbarian king.
Save a crusty old dwarf from the wolves of Elan Pass.
And outwit the dark wizard once more.
Above all else, she must always take the path of righteousness.
Which is much easier said than done.
Here is the old cover!
Scepter of Salvation
B&N
What do you all think?
And here's the new movie trailer I made for The Dark Fae:
I haven't made a book trailer in quite a while, mainly because they take so long--this one took 7 hours! But they're lots of fun to make and I hope readers enjoy watching them!
I still need to make one for Heart of the Highland Wolf!
The Dark Fae
Alicia has planned a vacation at South Padre Island with her girlfriend Cassie in forever. But just as they're enjoying a day on the beach, here comes a dark fae to spoil their holiday, except only she can see what he truly is. Alicia has no idea how upside down her world can turn with a chance meeting with one of the dark fae from the royal house of the Denkar.
Alicia's always known she's different--that she can recognize the mischievous fae when they show up to "play" with the humans. Only now she's faced with one highly annoyed dark fae and she's certain he knows the truth about her. She can see him, which means her life is forfeit.
Add to that, his sister arrives, who wants to play, too. And their mother, the queen of the Denkar, will want Alicia's head, once she learns what Alicia can do.
And all because Alicia was attempting to rescue her friend, Cassie, on their beach excursion at South Padre Island, from the wicked fae. Now, Alicia has really gone and done it--and she's thinking she should have let the fae have his fun. Her friend's broken heart would be a lot easier to deal with, than Alicia losing her life.
But it is too late for regrets. As soon as she threw the soda at the dark fae's chest, she had declared war on the fae. And he is happy to take up the challenge.
****
So what do you all think? Was it worth all the time it took to make it, or should I have just spent the time writing???
I'm also working on the very final edits on A GHOST OF A CHANCE AT LOVE and the book is due out in September!
Terry Spear, Author of Scottish Medieval Romance & Urban Fantasy
Upcoming Releases
Email to send an SASE for book marks!
terry spear @ ymail. com
Just leave out the spaces before you email! :)
Sold!!
Wolf Books 11, 12, and 13!
HERO OF A HIGHLAND WOLF Sourcebooks
SILENCE OF THE WOLF Sourcebooks
ROGUE OF A HIGHLAND WOLF Sourcebooks
And a New Jaguar Shifter Series:
HEART OF THE JAGUAR Sourcebooks
and two other titles.
---
The Winged Fae (Book 3, World of Fae)
Serena, a royal member of the Mabara winged fae, has one goal in mind. Stop an impending marriage with a dark fae. As the fae are known to do, she stirs up trouble that she hopes will make her point and get her off the hook. Only nothing goes as she plans.
Herlenkis, a royal member of the Denkar, aka the dark fae, is visiting South Padre Island when he catches a winged fae painting graffiti on a wall on the island claimed by his people. He is at once fascinated with the lovely girl and intrigued by her audacity, but as one of the Denkar, he must take her to task. Yet she's armed with a sleeping potion that makes his life intolerable. Between freeing her from his people's dungeon, her own tower, and fighting a knight in her honor, he wonders if he's lost his mind over one beautiful winged fae--when she's betrothed to his cousin!
---
A GHOST OF A CHANCE AT LOVE
Time travel western romance.
Vinspire Romance
Release date moved up from December to September!
The past clashes with the present, and one woman finds herself fighting for her own identity in the past so that she can have a future with the man she loves--but with her ancestor's hold over her--Lisa Welsh and Jack Stanton only have a ghost of a chance at love.
Lisa Welsh only wishes to leave a messy divorce behind for a couple of days stay in Salado, Texas, but wakes to nightmares and a cowboy in her bed, and she has no earthly idea how he got there. But the situation gets worse when she wakes in the morning and learns she's living in 19th Century Salado. Even more worrisome is the tall dark stranger and everyone else in town believes she's some woman named Josephine Rogers. Only she's supposed to be dead.
Jack Stanton can't believe the clerk gave him an occupied room at the Shady Villa Inn, but worse, he was ready to ravage the woman in that bed—until he realized his mistake. Now the woman he thinks is Josephine, claims to be some other woman—and though he could never abide by Josephine's fickle ways, this Lisa Welsh intrigues him like no other. Still, everybody in town believes her to be Josephine, and he steps in to help her find her way back home.
Murder, mystery, ties to family roots in the past, embezzlement and murder in the present, and a man she can't get off her mind no matter what century it is, Lisa has no choice. She must solve the mysteries and face the troubles in her world and Jack's or they will never be free to share the love that binds them across the ages.
And, a mention about DREAMING OF THE WOLF and the cover of HEART OF THE HIGHLAND WOLF will be in October's issue of WOMAN'S WORLD!!!
Also, I'm at
Book of Secrets
with more brilliant words of wisdom. Ahem. Yeah. So if you want to drop by and comment, chance at a free book giveaway!
Have a super Friday!
Terry
"Giving new meaning to the term alpha male."
www.terryspear.com